Skip navigation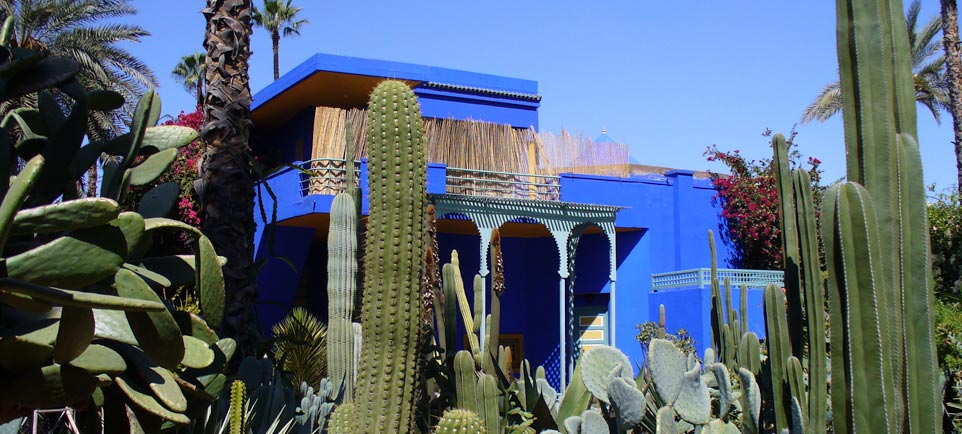 Red city owes its nickname to the 19km of ochre-colored ramparts which surround its medina. The taken road to reach Marrakesh does not matter, the city is very easily identifiable by the simple vision of the Koutoubia. This mosque is to Marrakesh what the Eiffel Tower is to Paris. Overlooking the heart of the city, it dominates the unceasing activity of Jemaa El Fna square and its souks. Once these labyrinths are crossed, architecture enthusiasts will be able to concentrate on the different monuments that Marrakesh has : the sumptuous Ben Youssef madrasa, Marrakesh museum, Bahia Palace, Saadian Tombs and the fabulous El Badi Palace of which there is only ruins left. Finally, Marrakesh has another treasure : its gardens. Located outside the ramparts… A world of quietness and coolness is offered to you while visiting Jardin Majorelle and Menara.
Ben Youssef Madrasa
Ben Youssef madrasa was built around 1570 by saadians.Restored in 1950, this former Koranic school is the vastest "madrasa" of Marrakesh.Located in the full centre of the medina, this is a "must see" building for every travel in "the Red City".Symbol of the saadian culture, it could accommodate 900 students.Formerly dedicated to the distribution of the knowledge and sciences, it is a part of the cultural heritage of Marrakesh nowadays.
Place Ben Youssef - Medina Marrakech
00212 (044) 39 09 11


from : $1
Majorelle Garden
Created in 1931 by French painter Jacques Majorelle, the Majorelle Garden, true haven of peace with luxuriant vegetation, shelters besides bougainvilleas, bamboo and geranias, the French painter's workshop.When Majorelle died in 1962, the garden was abandoned and bought by Yves Saint Laurent and Pierre Bergé, who replanted the vegetation.Today frequently visited by tourists from the entire world, who want to take advantage of its exceptional fauna and flora, the Majorelle Garden is an inescapable place to discover the beauties of Marrakech.