Skip navigation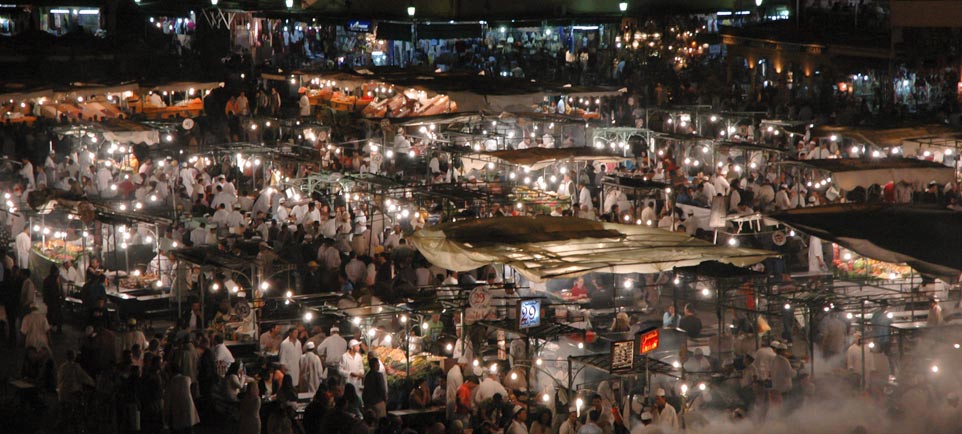 The last ten years have transformed the Red city into Morocco's tourist capital. To answer to visitors' enthusiasm always in greater numbers, Marrakesh does not stop surprising by its culinary diversity. We find excellent restaurants in the Medina as well as in the New Town. Further to the traditional restaurants which are among the Kingdom's best restaurants, we find now all kinds of cosmopolitan places. Whereas the idea could have seemed incongruous a short time ago, it is now possible to culinary travel in Marrakesh. Thai cuisine, Japanese, French, Italian,… Complied with its history, Marrakesh is an opening city which results to a creative cuisine. In a Medina's riad setting or a festive atmosphere of the New Town, we have selected for you the best restaurants of Marrakesh.
Foundouk
This ancient completely restored caravanserai offers you a Moroccan and international card. On three levels it is a succession of mezzanines and alcoves. On the grounfloor, an elegant bar to begin or finish your evening. The terrace offers a magnificent view on the whole medina and the Atlas Mountains. To come in taxi, ask for the Mokef square, on foot pass by the souks and walk towards Marrakesh museum - Opened from noon to midnight - Closed on Mondays - Reservation is recommended.
Bab Hotel
The restaurant, a universe in multiple facets where the color settles, is ordered in various spaces: the patio, the bar, the library, the fireplace. The chef offers a creative cuisine in crossed flavours. Continuous service from breakfast to dinner. SkyBab and swimming pool seem to kiss blue of the sky and privilege relaxation moments in a peaceful atmosphere.
Le Touggana
Out of town, and at only 15 minutes from the city center, in km9 route de l'Ourika (Ourika road), Isabelle and Manu welcome you warmly in a setting with elegant and varied colors. The chef offers you a menu mixing a French cuisine, World specialties and suggestions according to the market. Red wines are maintained in good temperature in cellar.
Grand Café de la Poste
Ideally located in the heart of the Gueliz district," The grand café de la poste" takes up with the authentic atmosphere of Marrakesh places. The decoration is in total harmony with Moroccan culture: it offers a Moresque style and a "pub" aspect directly taken from the past century. The "Grand café de la poste" is open from 8am to 1am and offers a menu with various dishes.
Dar Zellij
Located in Sidi Ben Slimane district, Dar Zellij shelters one of the most beautiful Moroccan gourmet restaurants of Marrakesh medina. Dar Zellij is above all Riad of exception from the XVIIeme century, strangely well protected thanks to the will and to the passion of its owner, Abdellatif Aït Ben Abdallah.
Katsura
Katsura invites you to taste Thai and Japanese specialities cooked by its chef native of Phuket in a contemporary design setting. Katsura is opened from Tuesday till Sunday from 12 am till 2:30 pm and from 7:30 pm till 11:30 pm.
Terrasse des Epices
In the heart of the medina, Terrasse des Epices (Spices' terrace) offers to those who like strolling in the medina and the souks' maze, the happiness of a relaxation and meeting moment. Built on an immense terrace, offering the luxurious panorama of the Atlas peaks and Koutoubia minaret, the restaurant and its bar dominate the medina. The proposed menu is simple and of quality. Of Moroccan inspiration, it suggests a variety of salads, as well as grills and brochettes, accompanied with fresh vegetables. The chocolate desserts already became a house speciality.
Le Chat qui rit
"Le Chat qui rit" (The Cat which laughs) invites you to savour a Mediterranean cuisine both traditional with its homemade big raviolis and creative with its monkfish at chanterelles and its artichoke carpaccio. Corsica's native, Bernard, the owner, suggests you tasting specialties of the Beauty Island and Italy, the whole in a friendly atmosphere. All the products are fresh and arise from the organic or reasoned farming. For more delicacies, many products are home-made such as pastas and desserts.
Tanjia
Tanjia, a real palace, an oriental pub located between Bahia palace and Badii palace, with a terrace which offers a fantastic view over Koutoubia. Sober and elegant, this special place invites to enjoy an atmosphere sensitive to the oriental interbreeding, peculiar the Moroccan lifestyle, with a western touch. Traditional Moroccan and international dishes will be suggested to you here. Test the lamb barbecue; it is one of their specialties ! The atmosphere is not in rest thanks to the show of oriental dancers, every evening accompanied with a group of traditional music or with the resident DJ.
Le Yacout
Yacout, Marrakesh institution, was created among the every first ones in Medina, about twenty years, by Mohammed Zkhiri who presides over the fates of this luxurious address. Enchanting setting, private lounges, astonishing and panoramic view from the terrace on the Medina and the Koutoubia. Table of high gastronomic tradition, menu at the fantastic succession of flavours and service as high as this beautiful house.
Dar Moha
Located in a luxurious riad, Dar Moha will introduce you to the subtleties of the Moroccan new kitchen in a charmingsetting. Around a swimming pool, in the patio of a magnificent riad, we are at Dar Moha, Mohamed Fedal's restaurant. Lobster Pastilla in coriander juice, Young cockerel in olives and crystallized lemon or Apple Chakhchoukha (crumbs of pancakes) with a rose coulis: the gastronomy practiced here revisits with happiness the Moroccan culinary tradition.
La Maison Arabe
The restaurant welcomes you in a luxurious setting. "Zouaké" (painted by hand) ceiling inspired by an Iranian mosque, walls in warm tones, flowery patio, fountains… The exclusively Moroccan cuisine is light. The best recipes of the traditional Moroccan gastronomy as well as La Maison Arabe specialties can be savoured in the sound of a lute and guitar duet which plays Arab-Andalusian music.
Le Jardin des épices
A few steps from the terrace of Spices at the crossroads of Dar El Bacha and Laârouss Riad Kamal Laftimi and decorator Anne Favier offer a second life to this beautiful house in the neighborhood they have recovered Sidi Abdelaziz in ruins for fully reconstruct the dress and green tones, greenery and streams ... A very 60's decor conceived in harmony with a Moroccan craft pushed to its most contemporaine.Dans this shady garden, we can have lunch, afternoon snack or the at night, enjoy the projection, outdoor, cult films in black and white. The Garden, a place of culture but also of celebration, has the potential to be privatized for events. Side dish, salads, organic produce and delicious delicacies can be enjoyed non-stop from 9am to 23h.