Skip navigation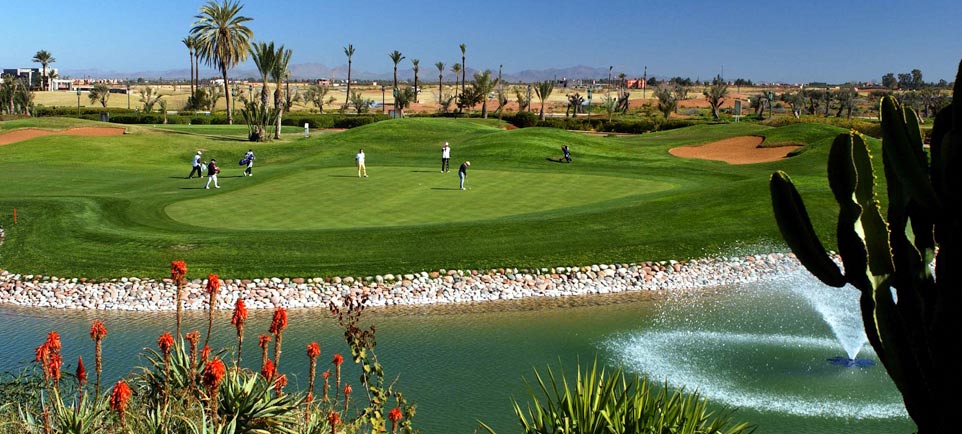 What golfer has not ever dreamed to bring his clubs out and exercise on a practice at feet of the Atlas snowy peaks ? Marrakesh counts among the most beautiful golf courses of Morocco. Whether you try to play 9, 18, 27 or 36 holes in an outstanding setting, you can improve your handicap on the greens of the three red city's golfs. By walking on the lawn of Royal Golf, you will measure a course drawn in the 20s, lined with olive trees, orange trees and apricot trees. Golfers of any levels can face the water traps of Amelkis golf or the American " links " type classic course of Palmeraie golf Club.
Al Maaden Golf
Marriage between an authentic environment and a golf with an attractive and varied architecture. All brightened up with a very high level of services and a high quality ground maintenance. Not to forget the clubhouse with its wonderful terraces overlooking the Atlas to enjoy a relaxing moment worry-free.
Amelkis Golf
Amelkis Golf Club is 27-hole golf resort (3 x 9) spread on a 688-hectare area located at the foot of High Atlas Mountains. Drawn by the famous architect Cabell Robinson, courses have the particularity of being protected by numerous water hazards, bunkers and sandy west in abundance which make it nowadays one of the most selective courses of Morocco.
Royal Golf
A mythical place. Created in 1923 by the Pasha of Marrakesh city, Marrakesh Royal Golf is one of the oldest golf courses of the Kingdom. On the steps of Winston Churchill, David Lloyd George or even Ike Eisenhower, players will succumb to the magic of this mythical golf, conceived in a natural environment of exception allying the beauty and the scents of luxuriant vegetation to the technicality and the modernity of courses, so putting all their senses on the alert. Opened 7 days a week, Marrakesh Royal Golf has 3 courses of 9 holes.