Skip navigation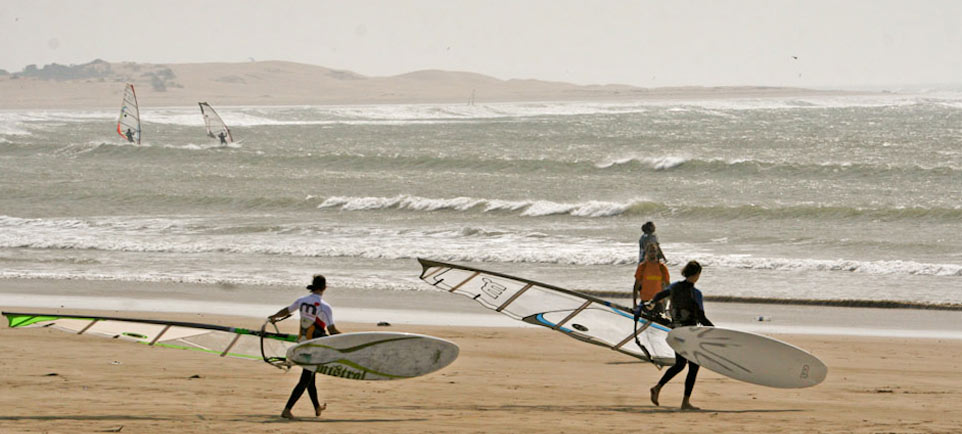 Considered as Morocco's water sport capital, Essaouira is a city with light temperature differences. There reigns here a constant temperature of at least 23°C. If you add to this North-East trade winds blowing on the Atlantic coast of Morocco almost the whole year, you obtain an ideal climate for board sport practice such as : windsurfing, kite surfing, surfing, and body board. Numerous infrastructures rent the adequate material along the bay for a better practice of these sports on Essaouira or Sidi Kaouki's spots. For another approach of the coast, you will also be able to pitch on a sailing trip and devote yourself to sea fishing. We have selected for you Essaouira's water sport specialists.
Club Mistral - Skyriders
Located in Essaouira, as well as in 14 major cities in the world, the Club mistral/Sky rider welcomes you in its surf wind surf and Kite surf school. Essaouira is indeed the ideal place to practice as its climate is perfect: a constant wind and a beach without obstacles will allow you to become familiar with these sports. Our instructors are graduated and speak various languages (Arab, French, and English). You will also have the possibility to rent equipment if your level allows you to practice on your own.
Essaouira Sailing Tour
Sail outings along the coasts and around the islands. Come and admire Essaouira city from the sea during the day or at sunset. For fishermen, we organize sea outings the morning according to the weather forecast.