Skip navigation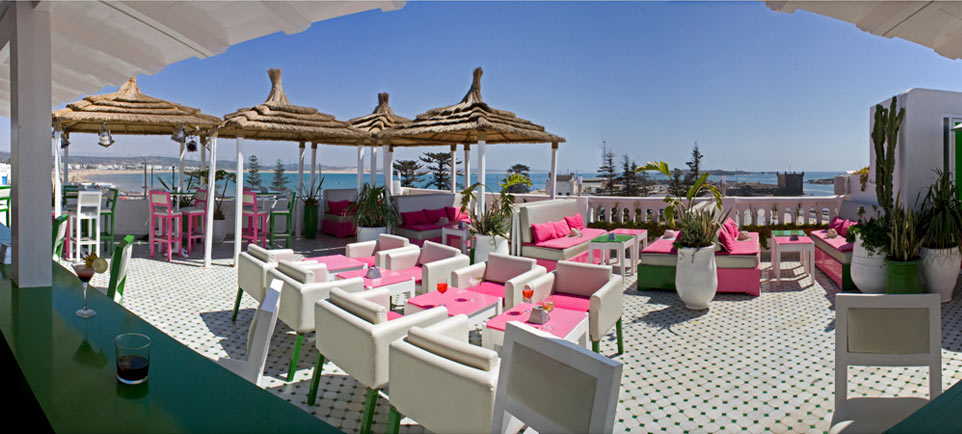 In spite of its size restricted by streams, Essaouira city knows how to lean on its seaside charm to offer to its visitors the best welcome. Contrary to its counterparts, Fes and Marrakesh, and their ceaseless hubbub, Essaouira is a city where it is good strolling. It reigns a summer atmosphere there, which strengthens the inhabitants' cheerfulness. Its numerous places in the medina or its beach edges are the perfect place for walkers. As other medinas of Morocco, alcohol consumption is forbidden near mosques. Except famous Taros who thrones on the main square, new lounge bars liven up the end of the day along the bay. We selected for you the best lounge bar spots of the city.
Taros
Essaouira enjoys a very moderate and rarely cloudy climate, in summer as in winter, our terrace is opened every evening from 6 pm, come to taste one of our numerous cocktails in the sound of the world music or more typical of Essaouira: Gnaoua one. Dream under stars and the magic of Taros will make the rest...
Casa Vera
You cannot visit Essaouira without passing by the My Hassan place! Look up, climb the stairs, and an astonishing 360° view awaits for you. Casa Vera – and its superb terrace, The Pink Garden Terraza- welcomes you continuously from noon to midnight. On the evening, the atmosphere is animated. Everybody is welcome to take a glass.